Things got a little tough for Nicole Kidman when cooking with Giada De Laurentiis and Ellen DeGeneres on Tuesday.
Joining in on a cooking segment with De Laurentiis and DeGeneres, Kidman was brutally honest when it came to the pizza that was made.
RELATED: Jessica Chastain Rolls Her Eyes When Asked If She Is Fed Her Lines Like Johnny Depp: 'No, I Work Hard'
"It's a little tough," Kidman admitted. DeGeneres burst into laughter and De Laurentiis tried to clarify things. "Nicole, it's been sitting out for like five hours!" she said. Clearly, Kidman was eating the pre-made display pizza during the cooking segment and it had hardened.
RELATED: Former Teammates Derek Jeter And Alex Rodriguez Endure The Most Awkward Interview
"I know you're not meant to criticize but..it's a little tough," Kidman hilariously reminded the cook one more time.
The trio also attempted to make meatballs earlier in the segment, but the women weren't cooking fast enough for De Laurentiis' liking. "Nicole, have you made meatballs or anything?" she shaded the Oscar-winning actress who responded with an epic eye-roll.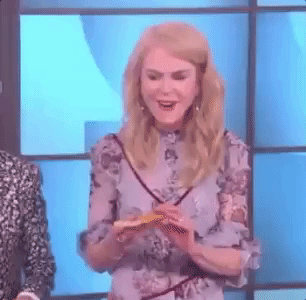 Watch the entire hilarious cooking segment above.