"Suicide Squad" actor Joel Kinnaman is teaming up with PETA to urge Chrysler to end its sponsorship with the Iditarod Trail Sled Dog Race.
Thanks to Toronto documentary filmmaker Fern Levitt, Kinnaman became aware of the dark side of the dog sledding industry through her 2016 film "Sled Dogs" and wanted to help put an end to the cruelty.
"My goal in making this film was to change the laws that allow continual chaining and shooting of dogs… in our country, as dogs are considered property," Levitt tells ET Canada.
Having worked with PETA before, Kinnaman was on board right away when his friend Levitt asked for his help in getting Chrysler to stop sponsoring Iditarod. "Yes!" was his immediate answer.
RELATED: Joel Kinnaman Spent 2 Days 'Buck Naked' Covered In Goo For Sci-Fi Series 'Altered Carbon'
Kinnaman wrote a letter to Chrysler stating that the racing event has led to the deaths of more than 150 dogs and that those are just the reported numbers. He claims the figures do not include dogs who died straight after the race, during training or those put down for not being fit enough.
"A total of 350 dogs were pulled out of the Iditarod race last year—likely because of exhaustion, illness, or injury," he writes. "One of them, named Blonde, died from aspiration pneumonia—most likely the result of choking to death on his own vomit, which is the leading cause of death for dogs who die running the Iditarod."
RELATED: Bradley Cooper Wins 'Oscat' Award From PETA For Directing His Dog In 'A Star Is Born'
The "Altered Carbon" star goes on to say that the dogs are "confined to factory farm–style pens or chained with only plastic "houses" or pathetic wooden structures for 'shelter.'"
"It is heartbreaking that these dogs will never know the comforts of a warm, inviting home and a loving family and are forced to run almost 100 miles a day in subzero temperatures while their paws blister and crack. Sports should not cause the suffering and abuse of others, especially those who cannot speak for themselves."
He concludes: "For the love of dogs, please do what you can to end this event by pulling your sponsorship."
RELATED: PETA Want Big Boi To Donate His Super Bowl Furs To People In Need
Coca-Cola recently ended its sponsorship with Iditarod after several other companies such as Jack Daniel's, Pizza Hut, and Nestlé, cut ties with the race in recent months.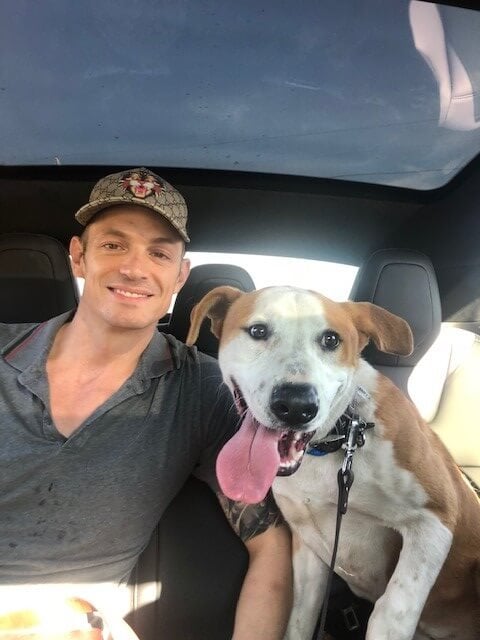 Kinnaman is pictured with his new rescue dog he recently adopted.
Photo: Courtesy of PETA
Up next for Levitt is a documentary on the oceans and there's no doubt that Kinnaman will be there to support his friend, like he did when he brought her a "big bouquet" of flowers at the Los Angeles premiere of her documentary, "Sled Dogs".