Donald Trump fired off another racist tweetstorm over the weekend, and celebs are calling him out.
The U.S. president targeted four Democratic congresswomen of colour, saying they should "go back" to their countries of origin. Three of the four women in question were, in fact, born in America. Chris Evans slammed Trump for the tweet, calling it "hateful and racist."
RELATED: Stephen King Says Donald Trump's Presidency Is 'Scarier' Than Any Of His Horror Novels
Evans was still seething over Trump's remarks two days later. On Wednesday, Captain America continued:
Cue this very relevant meme shared by Twitter user @RitesTweets.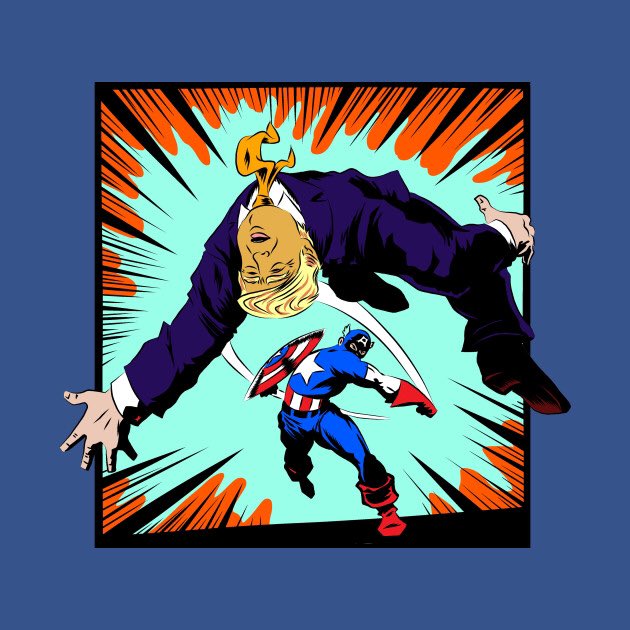 Janelle Monáe also struck out:
Director Rob Reiner said that "it is unarguable" that Trump is racist.
RELATED: Arnold Schwarzeneggar Claps Back At Donald Trump's Weird Claim That 'He Died'
Meanwhile, "When They See Us" director Ava DuVernay posted a message in support of the four congresswomen.
Arnold Schwarzenegger issued a statement to Politico about Trump's tweet.
"I'm disappointed in this weekend's untrue, unfair, and un-American attack,'' Schwarzenegger said. "It is hateful, it is crude, and it is divisive. America has always been about where you are going, not where you come from. That's what drew me and millions of other proud, contributing Americans to the greatest country in the world to realize our dreams."
"We can have political disagreements — and believe me, I have tons of disagreements with some of these policies — without personal attacks,'' Schwarzenegger wrote. "Too often, people resort to personal attacks when they can't articulate or understand what is wrong with the policy."
The former governor of California added, "President Trump, if you stood in the Rose Garden and broke down their policies for an hour, the country wouldn't be having this conversation right now. At some point, you have to dial down Donald and dial-up President Trump. I know it isn't easy, but the job you hold is bigger than you. It is bigger than any man or woman. The American people put great trust in you to serve, and it is time to rise to their trust instead of dragging them down and tearing them apart."
Stephen Colbert then mentioned the whole thing on "The Late Show", telling viewers: "It is insulting to these women to even have to defend them from these ridiculous racist accusations, and that's the problem. Even touching on Trump's obvious racism gets it on you. Also a fair amount of bronzer."
Jimmy Kimmel also poked fun at the president on his show, playing Trump's speech in which he said the women in question could leave the country at any time.
Kimmel joked that Trump's wife Melania would now be running for the airport.