Viewers watching the SAG Awards 2020 learned that Eugene Levy is an actor… and not much else.
The Canadian actor was among the select few to share a small blurb about themselves before proclaiming, "I am an actor." Levy, 73, got a little carried away and used up all his airtime before using up that of Hanks.
RELATED: 2020 SAG Awards: The Complete Winners List
"My name is Eugene Levy," he shared, before interjecting, "and another thought just occurred to me…"
His son and "Schitt's Creek" co-star Dan Levy had to interrupt.
RELATED: InstaGallery: The SAG Awards 2020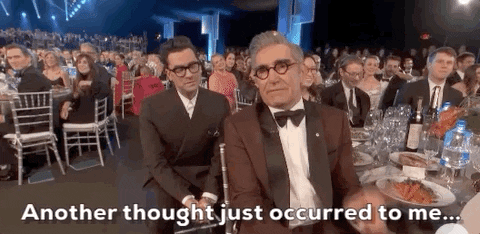 "You've taken three times as long as everybody else and you're still not finished," Dan asserted. "You've used up so much time that they're telling us they had to cut Tom Hanks."
"Well, I know Tom. He's a good guy. He'll take it well," Eugene assured, but the pan over to Hanks' face told a different story.